The examination culture in India is so toxic that it bars anyone from celebrating anything less than a perfect 90 per cent. This unsaid, overwhelming pressure is quite visible in the way we give away all the glory and limelight to the toppers and 90 percentile-rs, while those who manage to pass these exams are hounded by their own marks.
It is almost as if these students have committed a crime by scoring anything less than the desired magical number. In such times, a mother from Delhi, Vandana Katoch, is winning the internet with the way she is unapologetically proud of her son's marks and is celebrating the same.

The proud mom posted the following message on her Facebook page:

"Super proud of my boy who scored a 60% in Class 10 board exams. Yes, it is not a 90, but that doesn't change how I feel. Simply because I have seen him struggle with certain subjects almost to the point of giving up, and then deciding to give his all in the last month-and-a-half to finally make it through! Here's to you, Aamer. And others like you - fishes asked to climb trees. Chart your own course in the big, wide ocean, my love. And keep your innate goodness, curiosity and wisdom alive. And of course, your wicked sense of humour!"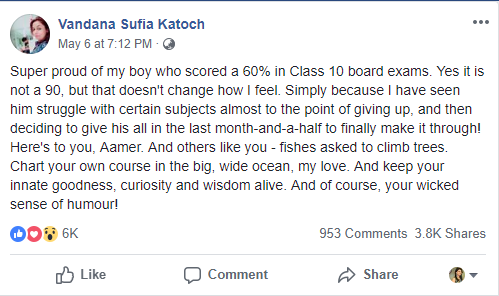 This mother's undeniably sweet and optimistic message for her son clearly won over the internet in no time as the post has garnered more than 5 thousand likes and around 3.3K shares. Her viral post is a refreshingly different take on the way we usually look at and discuss the examination results of our children.

Her views serve as a brilliant reminder of the fact that a child's report card isn't what defines him/her as a person and is not a way to measure their capabilities and potential either. Our children are much more than the marks they achieve or the 'Alphabets' they get in their mark sheets.

In an era where the marks achieved in board examinations is deemed to be the judge of a child's future, Vandana's post reminds us of our duties as a parent, which is to support, celebrate and encourage our children.

Parents all over Facebook are applauding her amazing message and thanking her for calling out the madness of the rat race of marks.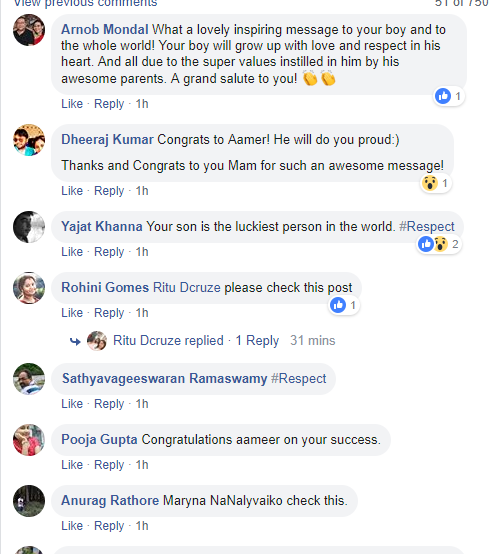 Kudos and huge respect to you Vandana! May parents like you continue to inspire us and help us take off the parental pressure from our children.